Big 3 Scouting College Football Recruiting 2012 Coaching Changes Give Prospects Second Thoughts
Use your ← → (arrow) keys to browse more stories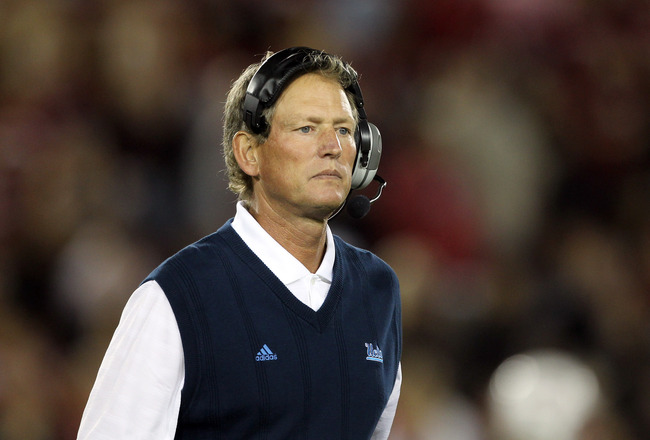 Ezra Shaw/Getty Images
2012 Coaching Changes Give Prospects Second Thoughts. I'm going to rattle off a couple coaches who were fired and the lingering rumored residue of them being canned scared off recruits for more than awhile.
Here we go.
5. Houston Nutt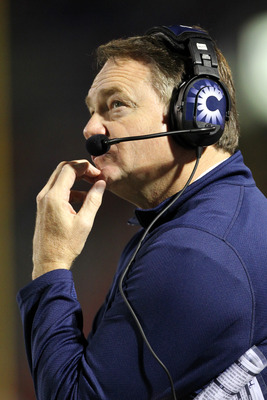 Joe Murphy/Getty Images
Nutt came to Ole Miss four years ago, looking to make the Rebels a higher profile SEC school and return them back to the old days. He never really did.
It was announced nearly a month ago that Nutt would not return as the Ole Miss coach, and it basically ended any hopes of a solid recruiting class to follow up last year's pretty good haul.
The Rebels' current class is ranked in the 60′s.
4. Luke Fickell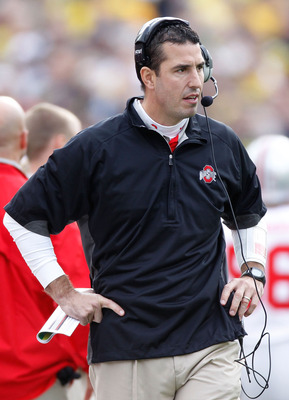 Gregory Shamus/Getty Images
Now Fickell wasn't fired per se, but Ohio State did hint around when he was named interim coach that he could get the permanent job with a good showing. Now, Urban Meyer is chief of football for the Buckeyes.
Fickell also did a great job to hold down much of the OSU recruiting class, but this current class has not attracted the national prospects the Buckeyes usually do.
They got a de-commitment from Kyle Kalis, were eliminated by Jameis Winston when Tressel resigned and could never get a reaffirmation from Brionte Dunn.
All because of the uncertainty around Fickell's future.
3. Mike Stoops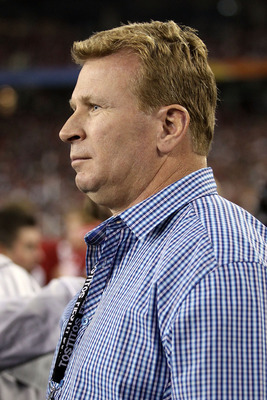 Christian Petersen/Getty Images
Stoops just never could break through in Tuscon and is gone. He may end up as the Ohio State DC or taking over for Howard Schnellenberger at FAU though.
But 'Zona recruiting class is ranked No. 57 in the country by Scout.com and also as the third worst in the Pac-12. They haven't really received a solid commitment since Sept. 4 in RB Anthony Lopez and when Stoops was fired on Oct. 11, the Wildcats have been a relative turn off to prospects.
Rich Rod could spice things up before February though.
2. Dennis Erickson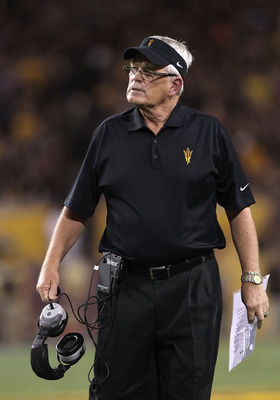 Christian Petersen/Getty Images
Erickson quietly told his staff he thought this would be his last season a few weeks ago. The administration at ASU agreed and fired him yesterday after a horrible collapse down the stretch of the season.
The Sun Devils had a top 24-caliber class according to a couple different publications during the season. Now their class is fading, and with no coach already in place like their desert rivals, the class may see some recruits leave.
I think a ton of schools are going to come after QB T.J. Millweard and also OL Evan Goodman.
1. Rick Neuheisel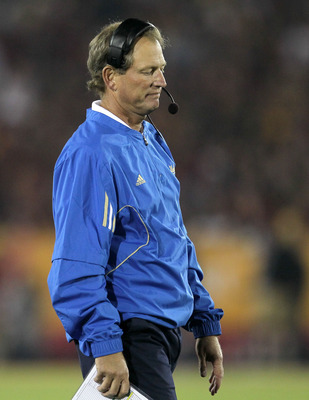 Stephen Dunn/Getty Images
Well, the Slick Rick era is over in Westwood. I think if you're an USC fan, that makes you sad, but as a UCLA fan, maybe you're fine with it.
After two consecutive top-10 classes, Neuheisel just faltered by the wayside on the recruiting trail. He talked big, but had some pretty terrible classes.
A lot of recruits on the West Coast figured by the middle of the season Neuheisel would get fired and UCLA has not made much noise on the trail.
No top 100 player really is considering UCLA, and yes I know Arik Armstead took an unofficial trip there a few weeks ago, but I think that was more geared for basketball.
Begin Slideshow
Comments